"He basically picked a fight that no one else wanted to touch. The fact that he got it done in this political environment

is nothing short of a miracle

." —Amy Ballinger-Cole, Advance Illinois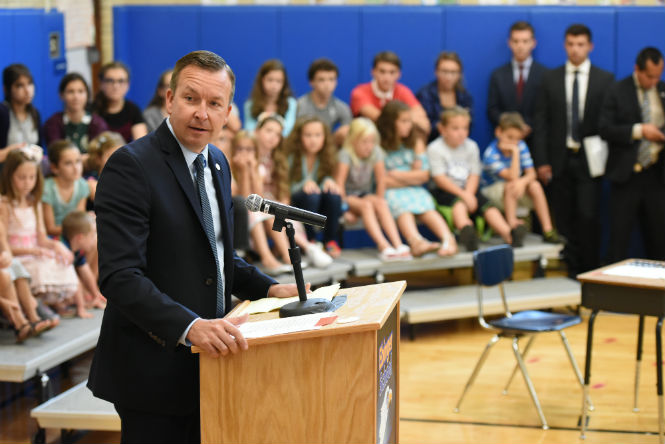 Over the past few years, Andy Manar has:
Spearheaded a comprehensive reform of Illinois' 20-year-old school funding formula, meaning our Downstate schools will receive millions more each year to fund our children's education.

Led Illinois in becoming one of the first states in the nation to automatically register voters when they turn 18, leading to a more active and engaged Democracy.

Brought together Lewis and Clark Community College and the University of Illinois to

establish a Bachelor of Science in Nursing degree program in Godfrey

to address a critical shortage of nurses for area hospitals and healthcare providers and to give students an affordable path to a college degree. Area students will be able to earn a bachelors degree from the U of I while attending classes locally at LCCC in Godfrey.

Joined with leaders on both sides of the aisle to craft and pass a balanced, bipartisan budget 

in which Andy restored money cut by Governor Bruce Rauner to important Downstate programs like county fairs, Soil & Water Conservation Districts, agriculture education, and vocational training.

Sought protections for independent, rural pharmacies and established "critical access rates" to guard against corporate greed within Illinois' new Medicaid managed care program.

Ensured the reinstatement of state payments to local governments which had gone without state dollars during Governor Rauner's budget impasse.

Unlocked funds to give every rural school in Illinois access to highspeed broadband internet.

Increased merit-based funds for in-state Illinois university students with the AIM HIGH Grant Program, which assists middle- and low-income students attending universities in Illinois.

Rejected a proposal by Governor Rauner which shifted pension costs onto local government.

Pioneered a law that would allow retired teachers in Illinois to serve as substitutes for up to 120 days—combating the substitute teacher shortage.

Sent a bill to the governor which would raise the minimum wage for teachers to $32,000 a year for the '18-'19 school year.